A Fun Run for Healthy Living and to a Good Year Ahead
26 May 17
The backbone of an organization are its employees, therefore it goes without saying that happy and healthy employees contribute to a happy company. Committed to promoting a healthy lifestyle, Goodyear Malaysia Berhad organized the Goodyear Fun Run 2017 at Shah Alam Botanic Garden to encourage employees and family members to lead healthier lives.
Held over the weekend,more than 250 Goodyear employees and their family members gathered early in the morning to conquer a 5km running route, which has been designed to provide participants a challenging experience. Runners were also treated to a pre-run aerobic warm-up session, to reinforce the importance of warm-up exercises to ready the body and mind for the day.
Ben Hoge, Managing Director of Goodyear Malaysia Berhad said, "Staff wellness and safety has always been a key priority to Goodyear. We want to not only inculcate a positive working environment, but to also impart values focused on wellness and safety which our employees can introduce to their families. It is our goal for employees to be safe both at work, and at home."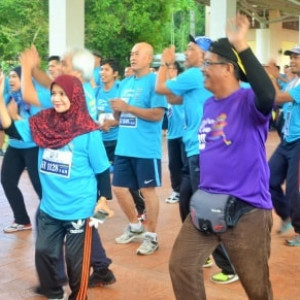 "Everyone has a role to play in staying healthy, not just for themselves but for their families too. Here at Goodyear, we are committed to promote this and to also help reduce the 73% estimation of deaths caused by non-communicable diseases such as hypertension and diabetes, shared by the Ministry of Health recently," added Ben.
Participants were treated to a series of fun-filled activities from food trucks to lucky draw prizes. A runner Kick tarter pack was also provided exclusively to kids. All runners were awarded a finisher medal to commemorate their efforts and perseverance during the run.
Norazrin Darusman, a Goodyear Malaysia Berhad employee said, "Staying healthy is crucial now, especially when various illnesses arise from unhealthy habits we have adopted overtime. I am glad to have joined this year's Goodyear Fun Run as it has kick started my healthy lifestyle. It also gave me the opportunity to bond with my three kids as we ran the route together."
A series of friendly sports competitions and wellness activities will continue to take place throughout the year to promote healthy living and foster ties between Goodyear Malaysia employees.
In 2016, Goodyear Malaysia Berhad was recognized as one of Asia's best organizations to work in, and was also awarded the Asia Best Employer Brand Award 2016 conferred by The Employer Branding Institute.