Goodyear Announces Intelligent Tire Trial, Expands Fleet Management Solution for Semi-Autonomous Fleet
08 Sep 17
Intelligent tire integrates with connected car fleet to deliver data-driven diagnostics
Focus on data gathering and analytics to serve shared mobility business models
Effort builds on successful launch of Goodyear Proactive Solutions for commercial fleets
AKRON, Ohio – A long-time leader in tire management for racing, trucking and aircraft fleets, The Goodyear Tire & Rubber Company is now applying its expertise to a fleet of semi-autonomous electric cars.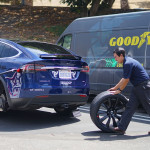 Goodyear announced that it is equipping Tesloop, a city-to-city mobility service that exclusively uses Tesla electric vehicles, with wireless sensors in its tires to improve overall tire management and maximize uptime for its growing fleet.
"We want to build the future, not just observe or read about it," said Chris Helsel, Goodyear's chief technology officer. "As the new mobility ecosystem continues to take shape, we are taking steps to match the pace of technical change in the transportation industry and develop tire innovations that meet the intelligence of the vehicles riding on them."
"When you are operating cars nearly 24/7/365, minimizing tire incidents is critical to the customer experience and the business model," said Rahul Sonnad, Tesloop's CEO. "The possibilities for data-driven tire diagnostics are remarkable and promise to help a business like Tesloop operate more efficiently and make our vehicles the safest on the road."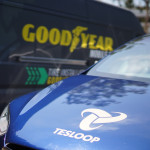 Tesloop operates a fleet of Teslas that average up to 17,000 miles per vehicle, per month. Its highest-mileage vehicle, a Tesla Model S in operation since 2015, recently exceeded 300,000 service miles. Goodyear has been working with Tesloop since January 2017 to study the effect of autonomous technologies on tires.
Goodyear's effort with Tesloop builds on its successful commercialization of Goodyear Proactive Solutions for truck fleets, using advanced telematics and predictive analytics technology to allow fleet operators to optimize fuel efficiency and precisely identify and resolve tire-related issues before they happen.
In addition to its fleet management offerings, Goodyear is also working with automakers to provide tire information to vehicle control systems to enhance safety and performance.
Helsel added, "Goodyear is breaking new ground with the combination of fleet management expertise, intelligent products, and a vast service network to deliver complete solutions for the future of mobility."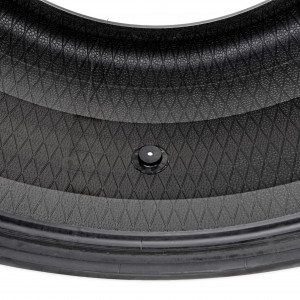 About Teslop
Founded in 2015, Tesloop, a California based startup, is building the first sustainable mobility service on autonomous, connected, electric vehicles. It manages and operates an expanding fleet of electric Tesla vehicles offering shared personal transportation between 50 and 250 miles. By leveraging the economics of new vehicle technology Tesloop can deliver an unprecedented level of consumer value compare to other regional transportation alternatives. The company has a strong focus on building the software technology required for routing, pricing, remote administration, and security, as well predictive models based on deep learning from the vehicle data. Since its launch in 2015, Tesloop has become the highest rated transportation service in the world, and is rapidly expanding across California and beyond.