Goodyear Rolls Out Support for Disabled Communities in Malaysia
28 Sep 15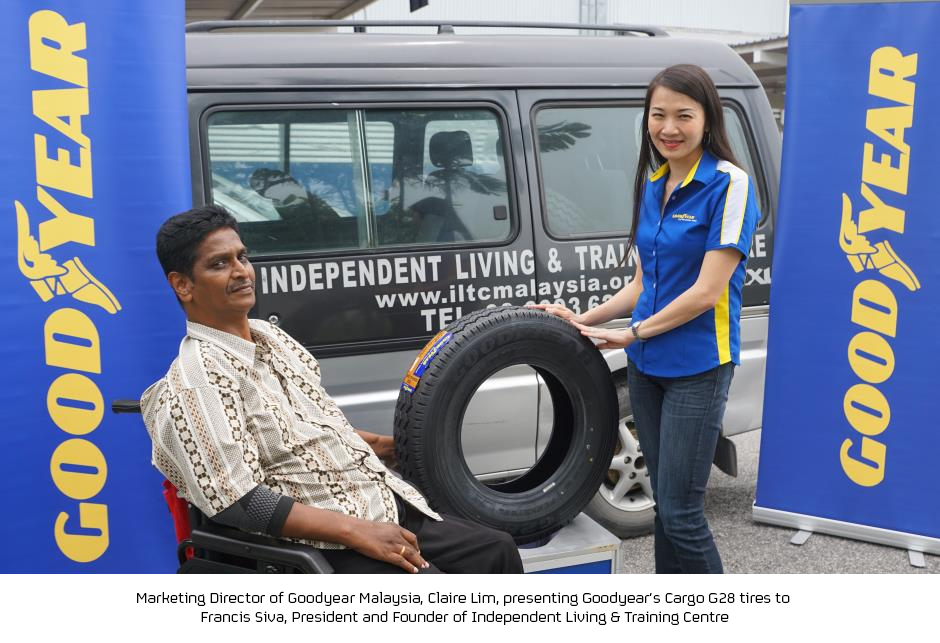 KUALA LUMPUR, 28th September 2015 – Goodyear Malaysia continues to show its commitment to supporting the community by supplying a set of its long lasting and durable Goodyear tires to the Independent Living & Training Centre (ILTC). ILTC is a non-profit, charitable organization that assists physically disabled people to develop their abilities and maximise their level of independence.
The sponsorship consists of four Goodyear Cargo G28 tires that will be fitted to a Ford Spectron van, the organization uses to provide transportation assistance for the disabled.
"One of Goodyear's shared values is 'caring for our communities.' The company strives to build relationships with organizations and people that work to help improve and develop society," said Claire Lim, marketing director of Goodyear Malaysia.
"With this latest contribution, we are proud to be part of helping ILTC provide residents with necessary support and empower them to achieve their fullest."
Commenting on the sponsorship from Goodyear Malaysia, Francis Siva, president and founder of ILTC said, "We are truly appreciative to have Goodyear's support so we can continue our efforts in promoting independent living movements within Malaysia. We hope we are able to reach out to even more people who require our assistance."
Through Goodyear Malaysia's community outreach program, the company has extended support to organizations with a focus on enhancing public safety, wellbeing and education. Organizations that have received support include St. John Ambulance, Spastic Children's Association, the Malaysian Association for the Blind, the Independent Living and Training Centre, the National Kidney Foundation and Mercy Malaysia.
###
About Goodyear Malaysia
In 1908, The Goodyear Tire & Rubber Company began buying rubber from Malaysia via Singapore for its worldwide operations, with the sale of Goodyear products in Malaysia beginning in 1929. Goodyear Malaysia Berhad established its own manufacturing plant based in Shah Alam, Selangor in 1972, which went on to become the company's first tire plant to be certified for ISO 9002 standards in 1992. Today, Goodyear is one of the leading tire companies in Malaysia producing and selling a wide range of products for passenger, light truck, truck, bus and 4X4 vehicles. For more information about Goodyear Malaysia or its products, go to www.goodyear.com.my.
For Goodyear Malaysia media enquiries, please contact:
Dickson Chong
Roots Malaysia
Tel: +60 3 7494 0292
Email: dickson.chong@rootsasia.com
For further enquiries, please contact:
Joanne Foong
Marketing Communications Manager, Goodyear Malaysia
Phone: +60 3 5520 3250
Email: joanne.foong@goodyear.com