Goodyear wins Environmental Achievement of the Year award
26 Feb 18
AKRON, 22 February 2018 – Goodyear was presented the prestigious Tire Technology International Award for Innovation and Excellence in the category of "Environmental Achievement of the Year" during the 2018 Tire Technology Expo this week in Hannover, Germany.
The award given to Goodyear recognized a breakthrough in applying soybean oil in the tread compound of tires, as a replacement for traditional petroleum oil.
Over the past few years, Goodyear worked with the United Soybean Board to develop soy-based technology that would add performance to tires. Following extensive analysis, road testing and more, this new technology advanced to the point that it is being used in two new Goodyear tires.
Goodyear discovered that soybean oil could improve tire flexibility at low temperatures, helping the rubber to remain pliable in cold weather and enhancing traction in rain and snow simultaneously. Additionally, Goodyear discovered that soybean oil mixes more easily with rubber compounds used to make tires, leading to reduced energy consumption, therefore improving the manufacturing efficiency.
"Goodyear's innovative industrialization of soybean oil technology proves that research and development in sustainable materials can benefit not only the environment, but also tire performance," said Graham Heeps, editor, Tire Technology International and chairman of the judging panel.
The Tire Technology International Awards for Innovation and Excellence were chosen from nominations received from the readers of Tire Technology International (published by UKi Media & Events, of the U.K.), and with the input of the magazine's editorial team. Winners are selected by an independent panel of international tire industry experts.
The awards ceremony was held during the Tire Technology Expo, one of the tire industry's leading technology expositions. The Expo has become a premier venue for tire companies and related companies, research institutions and other organizations from around the world to showcase innovations, products and services.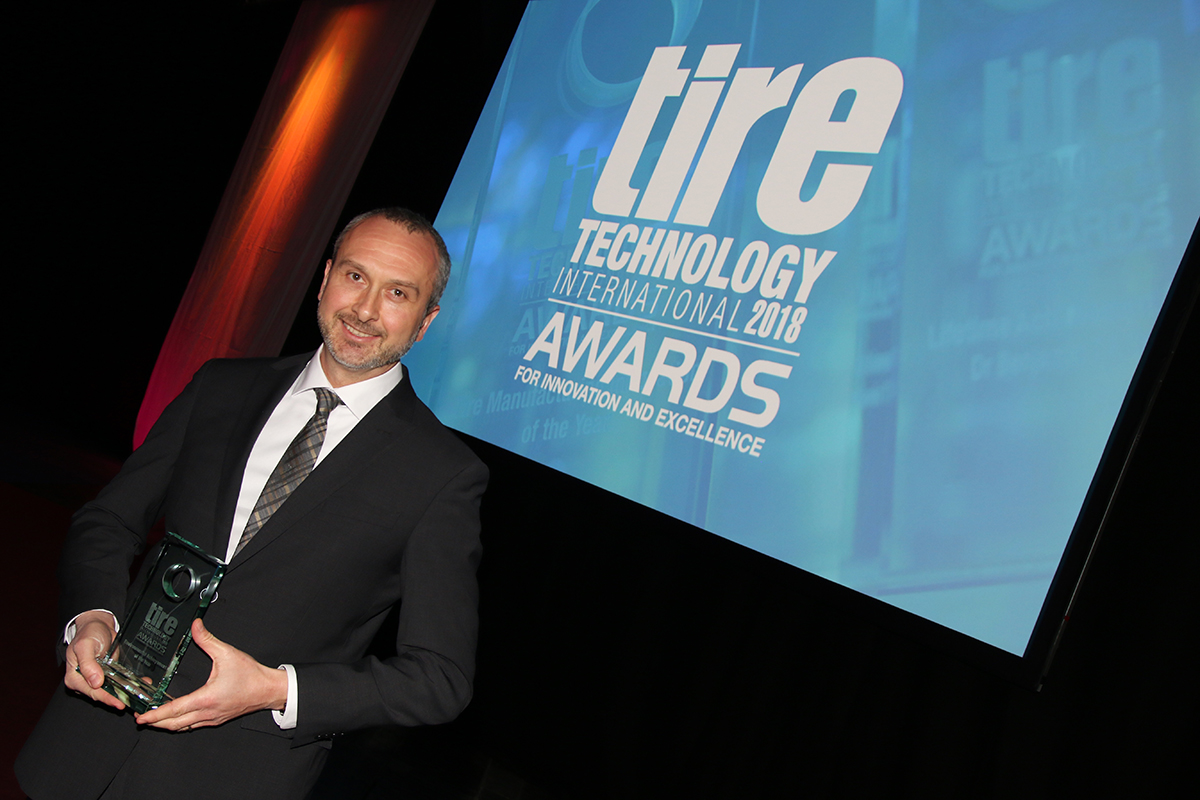 ​Mike Kerns, material​ development manager, Global Materials Science shows off the Environmental Achievement of the Year award during the Tire Technology Expo in Hannover, Germany.​​