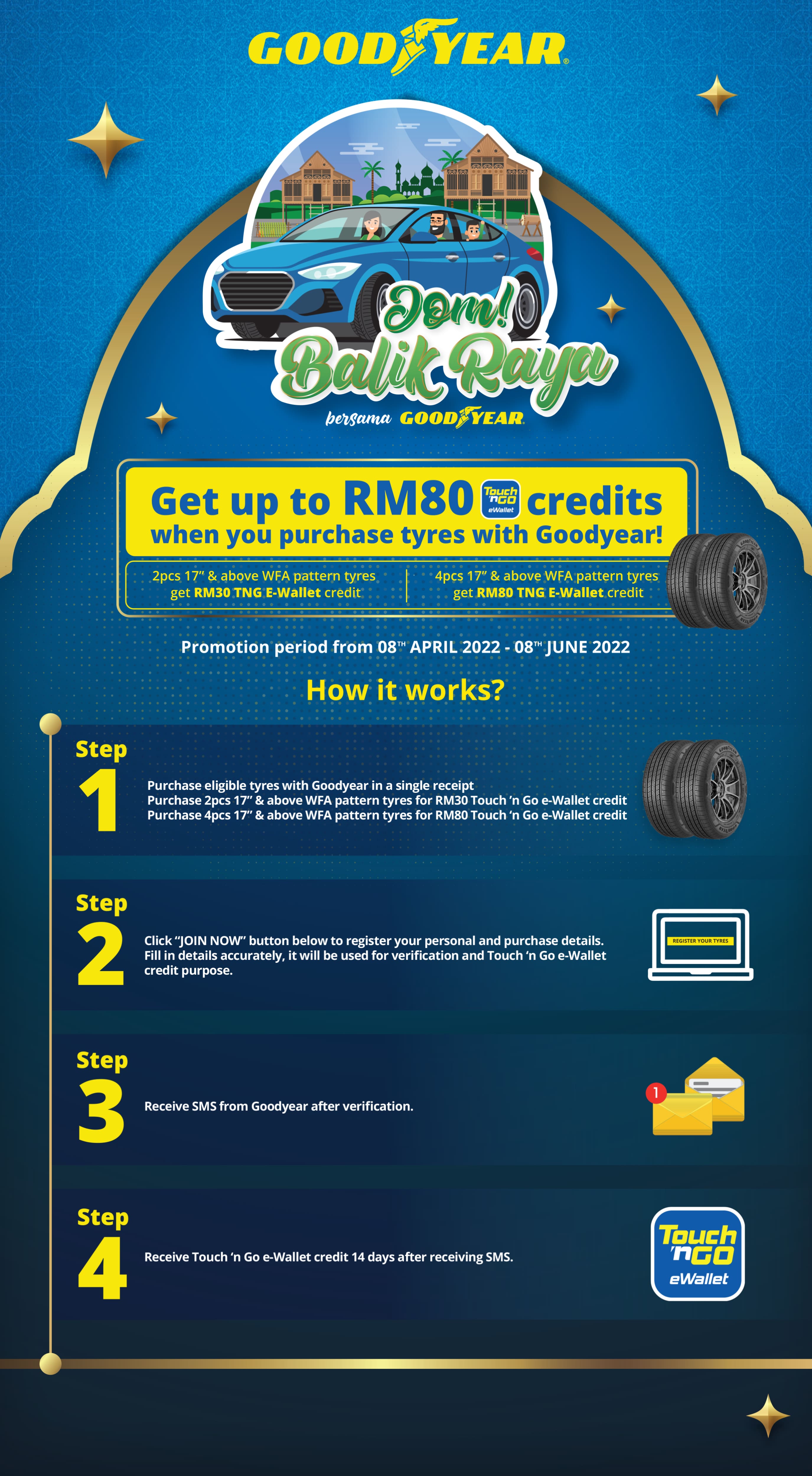 TERMS & CONDITIONS – GOODYEAR 2022 BALIK RAYA PROMOTION 1. General 1.1 The "2022 Balik Raya Promotion" ("Promotion") is organized by Goodyear Malaysia Berhad ("Organizer").
1.2 This Promotion is subject to the rules and conditions determined by the internet social website, Facebook ("Facebook"), Goodyear's rules and the relevant laws of Malaysia and is not offered or valid outside of Malaysia.

2. Eligibility
2.1 This Promotion is open to all Malaysians ("Participants") aged 18 and above. Participants' age must be 18 years old as of 8th April 2022 and they must be able to legally own and drive a car.
2.2 The following group of individuals may participate in this Promotion but shall not be eligible to win.
2.2.1 Permanent and/or contract employees of Goodyear Malaysia Berhad (including its associated and related companies) and their immediate family members (children, parents, brothers and sisters, including spouses); and/or
2.2.2 Representatives, employees and/or agents of advertising and/or promotion service providers of Goodyear Malaysia Berhad.

3. Promotion Period 3.1 The Promotion will start on 8th April 2022 12.00AM (GMT +8) and end on 8th June 2022 11.59PM (GMT +8) ("Submission Period").
3.2 Any entry received before the opening or after the closing will be automatically disqualified.
3.3 No responsibility can be accepted for entries not received for whatever reason.
3.5 Entry into the Promotion will be deemed as acceptance of all of these terms and conditions.

4. Promotion Mechanics
To qualify for the Promotion, Participants are required to perform these tasks:
Go to the Goodyear Worry Free Assurance (WFA) for Online Registration.
This Promotion is applicable with every purchase of 2 units of Goodyear Tyres covered under Worry Free Assurance, 17 inches and above (which are the following: All Asymmetric series, Eagle F1 Asymmetric SUV, Eagle F1 Asymmetric 2 SUV, Eagle F1 Asymmetric 2, Eagle F1 Asymmetric 3, Eagle F1 Asymmetric 3 SUV, Eagle F1 Asymmetric 3, Eagle F1 Asymmetric 5, Eagle F1 Directional 5, Eagle EfficientGrip, Efficientgrip Performance, Efficientgrip SUV, Efficientgrip Performance SUV, Assurance Triplemax, Assurance Triplemax 2, Assurance MaxGuard SUV, Wrangler Triplemax, Optilife and all Run On Flat (ROF) tyres) during the period from 8th April 2022 and 8th June 2022 ("Eligible Tyres"). Purchasers are reminded to submit their entry during the Submission Period in order to qualify for the Promotion.
Registration of Worry Free Assurance (WFA) with purchase of 2 units of Eligible Tyres is entitled to RM30 Touch 'n Go e-wallet credit and 4 units of Eligible Tyres is entitled to RM80 Touch 'n Go e-wallet credit.
The submission required to have complete personal details such as Full Name, 12-Digits NRIC Number, Contact Number, Purchase information with Tyre purchased, size, quantity, purchase date, WFA serial number, upload receipt for verification and e-wallet credit purpose.
Only consumers who purchase from Goodyear Authorized Branded Retail Outlet and Distributor (Sub-Dealer) qualify to participate and get rewarded with Touch 'n Go e-wallet credit under this Promotion.
Promotion entries will not be returned. Please keep a copy of your original receipt for proof of purchase.
We reserve the right to cancel or amend the Promotion and these terms and conditions without notice in the event of a catastrophe, disaster, disease, war, civil or military disturbance, act of God, act of government, lockdown, movement control or any actual or anticipated breach of any applicable law or regulation or any other event outside of our control. Any changes to the Promotion will be posted on Goodyear Malaysia website and social media page.

5. Judging
5.1 The Promotion entitlement will be judged based on the criteria that has been set here as well as that published on Goodyear Malaysia Berhad's social media and/or the official website.
5.2 If a Promotion entrant does not meet the eligibility requirements or is subject to any entry restrictions, that entrant shall not be entitled to the Promotion and will not be entitled to any e-wallet credit under any circumstances.
5.3 In determining the successful entries our discretion is absolute and our decisions in respect of all matters to do with the Promotion will be final and no correspondence will be entered into, whether by post, email or social media.
5.4. Judges' decisions are final. Disputes or appeals will not be entertained. The Organizer reserves the right to disqualify the following entries: 5.4.1 Participants who are not Malaysian citizens.
5.4.2 Participants below 18 years of age.
5.4.3 Only Participants that fulfil the Promotion regulations stated above shall be entitled to the e-wallet credit. Incomplete entries and/or Participants that fail to fulfil the Promotion regulations will automatically be disqualified from the Promotion without prior notice.
5.4.4 Each participant with unique name and contact number shall only be entitled up to a maximum RM80 Touch 'n Go e-wallet credit (which equivalent to 4 units of tyres purchased in a single receipt). Multiple submissions will not be entertained.

6. Prize Rules and Regulations
6.1 This promotion is only valid for the submission within the Promotion period.
6.2 The successful participants are bound by the terms and conditions that come with the e-wallet credit. The acceptance of e-wallet credit indicates the acknowledgement and agreement of such terms and conditions.
6.3 If a specified e-wallet credit becomes unavailable due to unforeseen circumstances, the Organizer may at its discretion, without prior notice, substitute a similar credit or one of equivalent value.
6.3 The Winners may be required to attend and participate in a ceremony and/or other related events organized by the Organizer, if any. Should the successful participants fail to attend such ceremonies and/or events, the Organizer reserves the right to forfeit the e-wallet credit.
6.4 Promotion e-wallet credit shall be specified on our website or social media channels.
6.5 The prize will be credited via Touch 'n Go using the contact number from the submission. The Organizer is not liable for incorrect contact number submission that results in wrong credit to the Touch N Go account. Successful Participants will receive their e-wallet credit not more than 30 days following that closing date.
6.6 Reasonable efforts will be made to contact the Participants for 14 days but if the Participant fails to respond to our notification attempts within this time or provide an account for the e-wallet credit or fails to meet any of the eligibility requirements or is otherwise unable to comply with the Promotion terms and conditions, we reserve the right to disqualify that entrant.
6.7 The e-wallet credit is not transferable. If the e-wallet credit is not possible, we reserve the right to the e-wallet credit with another of equivalent value without giving notice.

7. Other Rules and Regulations
7.1 The decisions of judges appointed by the Organizer are final, conclusive and binding and no further appeal, inquiry and/or correspondence will be entertained.
7.2 The Organizer (including its respective employees, staff and agents) shall not be liable for any loss (including loss of opportunity and consequential loss arising therewith) and/or any damage suffered by any winner in connection with the Promotion.
7.3 The Organizer is not responsible for any error, omission, interruption, deletion, defect, delay in operation or transmission, communications line failure, theft or destruction, unauthorized access to, or alteration of, user or member communications, or any problems or technical malfunctions of our website or network or lines, computer online systems, servers or providers, computer equipment, software, failure of e-mail on account of technical problems or traffic congestion on the Internet.
7.4 The Organizer reserves its rights to publish or display materials or information, including but not limited to the names of all Participants for marketing, advertising and publicity purposes in any manner it deems appropriate, and participants are deemed to consent to such use with no monetary payment. By submitting your personal data, you are deemed to have consented to the Goodyear Private Policy which can be found at:  https://www.goodyear.com.my/privacy-policy
7.5 The Organizer reserves the right to use all submissions for promotional and/or other activities at its discretion. The Organizer is not bound in any way to give compensation and/or benefits, monetary or otherwise, to the owners of all submissions.
7.6 The Organizer reserves its right to cancel, terminate or suspend the Promotion with or without any prior notice and reason. For the avoidance of doubt, cancellation, termination or suspension by the Organizer shall not entitle the Participants to any claim or compensation against the Organizer for any and all losses or damages suffered or incurred as a direct or indirect result of the act of cancellation, termination or suspension.
7.7 The Organizer reserves the right to audit any or all information supplied by Participants and each Participant agrees to assist the Organizer in any such audit in every way possible. For any Participant knowingly providing false information on their entries, the Organizer reserves the right to disqualify the submission.
7.8 The Organizer reserves the right, in its sole discretion, to disqualify any Participant that is found or suspected of tampering with the Promotion submission process, the operation of the Promotion or to be in violation of the Conditions of Access of the website or usage policy of the website. The Organizer reserves the right to disqualify any Participant and/or to forfeit any e-wallet credit and/or reward from a Participant it believes has undertaken fraudulent practice and/or activities or other activities harmful to the Promotion or the Promotion submission process.
7.9 The terms and conditions herein shall prevail over any inconsistent terms, conditions, provisions or representations contained in any other promotional or advertising materials for the Promotion. In the event of any inconsistency, conflict, ambiguity or discrepancy between the English version and any other version in other languages of these terms and conditions, the English version shall prevail at all times.
7.10 The Organizer reserves its right to vary, delete or add to any of these Terms and Conditions and/or substitute or replace the gifts from time to time without any prior notice.
7.11 By participating in the Promotion, it is deemed that the Participants agree to be bound by the terms and subject to the conditions herein set out upon submission of entry. The decisions of the Organizer in relation to every aspect of the Promotion including but not limited to the type of e-wallet credit and winners shall be deemed final and conclusive under any circumstances and no complaint from any Participants will be entertained.