Goodyear Assurance TripleMax 2
The new Goodyear Assurance TripleMax 2 with the latest HydroTred technology can achieve better braking performance on wet road. With innovative asymmetric tread design, drivers can experience better handling and comfort performance for a safer and a more comfortable drive.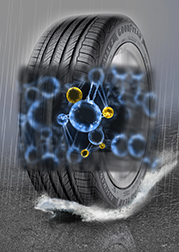 Braking Performance
With HydroTred technology using boosted compound formulation with additional adhesive resin and innovative asymmetric pattern design to improve braking performance on wet road.
* TÜV SÜD commissioned by Goodyear to conduct the wet braking benchmark test:
Handling Performance
The asymmetric tread pattern and cavity design are optimized to create a more squarish footprint and greater contact pressure  to improve handling and steering precision.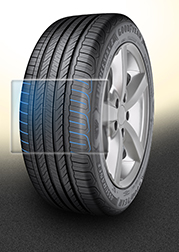 Comfort Performance
The tire tread pattern is designed with narrower shoulder grooves, increased number of pitches and reduced noise inducing edges to give drivers a more comfortable and quieter ride.
*Assurance Triplemax 2 has a shorter wet braking distance as compared to 4 leading competitors (which needed an additional 5.65m, 2.8m, 1.85m & 1.45m) under test conditions (from 80 km/h to 1 km/h, with stopping distances derived using test deceleration data). Actual stopping distance may vary due to ABS and other factors. TÜV SÜD Product Service GmbH test commissioned by Goodyear.
Tire Size: 205/55 R16 91V, Test Car: VW Golf VII 1.4 TSI at Mireval France, Report No: 713129179
Goodyear Worry Free Assurance

This program protects your Goodyear Assurance TripleMax tyres against road hazard damages.

TYRE REPLACEMENT ENTITLEMENT PERIOD & CLAIM 

Tyre replacement entitlement is applicable within 6 months from the date of purchase and remaining tread depth must be more than 6.0mm.

When making a claim, you must present the following to the dealer where the tyre was originally purchased:
Goodyear Worry Free Assurance program card

Details in the card must be completed.
Keep the 'Customer Copy' for your future reference

Original receipt of purchase
Damaged tyre that requires replacement
For more information on the Worry Free Assurance program, please visit: Goodyear Worry Free Assurance .
| Size | Load Index | Speed Rating | Pattern | Car Fitment |
| --- | --- | --- | --- | --- |
| 185/60R15 | 84 | H | ASSURANCE TRIPLEMAX 2 | Toyota Vios, Toyota Sienta, Suzuki Swift, Volkswagen Polo |
| 185/65R15 | 88 | H | ASSURANCE TRIPLEMAX 2 FP | Nissan Almera, Nissan Grand Livina, Toyota Avanza |
| 195/50R15 | 82 | V | ASSURANCE TRIPLEMAX 2 FP | Proton Saga BLM |
| 195/55R15 | 85 | V | ASSURANCE TRIPLEMAX 2 FP | Volkswagen Polo, Proton Waja, Proton Gen2, Proton Satria Neo |
| 195/60R15 | 88 | V | ASSURANCE TRIPLEMAX 2 | Naza Citra,Toyota Prius C, Naza Kia Rondo, Greely S40, Proton Persona |
| 195/65R15 | 91 | V | ASSURANCE TRIPLEMAX 2 | Toyota Corolla, Nissan Sylphy, Proton Exora, Toyota Prius |
| 205/65R15 | 94 | V | ASSURANCE TRIPLEMAX 2 | Toyota Innova |
| 185/55R16 | 83 | V | ASSURANCE TRIPLEMAX 2 | Honda City and Jazz |
| 195/50R16 | 84 | V | ASSURANCE TRIPLEMAX 2 FP | Toyota Sienta, Ford Fiesta |
| 195/55R16 | 87 | V | ASSURANCE TRIPLEMAX 2 | Peugeot 208, Honda CR-Z |
| 205/55R16 | 91 | V | ASSURANCE TRIPLEMAX 2 FP | Proton Preve, Honda Civic, Toyota Corola Altis, Proton Exora, Volkswagen New Beetle, Volkswagen Golf,Volkswagen Jetta, Daimler C Class, Volkswagen Passat, Volkswagen Touran, BMW 3 Series, Kia Forte & Hyudai Elantra |
| 205/60R16 | 92 | V | ASSURANCE TRIPLEMAX 2 | Proton Inspira, Suzuki SX4 |
| 215/55R16 | 93 | V | ASSURANCE TRIPLEMAX 2 FP | Honda Civic |
| 215/60R17 | 95 | V | ASSURANCE TRIPLEMAX 2 | Honda HRV, Toyota Camry, Nissan Teana |
| 205/45R17 | 84 | W | ASSURANCE TRIPLEMAX 2 FP | Peugeot 208, Kia Rio, Nissan Almera Impul |
| 215/45R17 | 91 | W | ASSURANCE TRIPLEMAX 2 XL FP | Honda Civic, Kia Cerato, Toyota Corolla, Proton Preve, Toyota CT,Kia Forte, Hyundai Elantra |